The Tea Bee – Nothing But Coconut Iced Doughnuts
Doughnut worry if you're starting to fancy something a little more indulgent now that Autumn is here, there's no need to sugar coat it, we have the recipe just for you!
Sometimes you just need a sweet treat to hit the spot, and lucky for us, Carli has created the ultimate sweet sugar glazed variety of an old favourite, otherwise known as the coconut iced doughnut.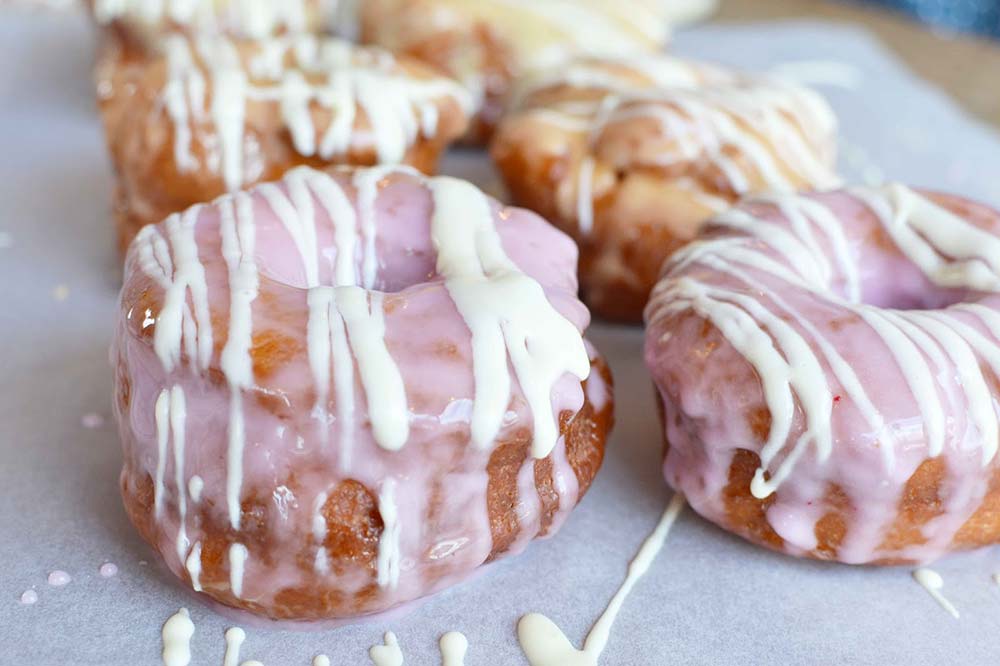 From the light, fluffy interior, to the soft and shiny coconut glaze to our very own, crunchy Nothing But for a delicious fruity topping it will be difficult to stop at just one...so we recommend you join us in the kitchen and make up a whole batch immediately!
What you'll need
For the doughnuts:
300g strong white bread flour
25g golden caster sugar
1 tsp fast-action dried yeast
2 eggs
75g butter
Vegetable oil
For the glaze:
80ml coconut milk
350g icing sugar
Pink, Green, Orange food colouring
Nothing But – Pineapple & Grape, Apple & Fig, Strawberry & Banana (it doesn't matter, they're all delicious!)
How to make them
Pop the flour, sugar and half a teaspoon of salt into your mixer.
Add the yeast with 100ml of warm water to activate the process.
Add the eggs and butter and mix with a wooden spoon until it becomes a smooth sticky dough.
Pop the dough into your mixer with the dough attachment and let it do the work for you for a good 10 minutes.
Give the bowl a good clean and oil it slightly.
Put the dough back into the bowl and turn it so it is coated in oil, then wrap the bowl with cling film and set aside somewhere warm.
Once the dough has risen, tip it onto a surface and punch out any air bubbles.
Roll the dough out to about 2cm thick and use an 8cm cutter and stamp, stamp, stamp away.
Use a smaller 2cm cutter to cut out the middle of your doughnuts.
Lay all your bits out onto 2 baking trays and cover with some lightly oiled cling film and leave to rise for an hour until they double in size.
While you are waiting for the doughnuts to rise, start on your icing.
Fill a large pan or a deep fat fryer with oil and heat to 180C – be very careful!
When you are ready to fry have a tray lined with kitchen roll so you can transfer the piping hot dough onto an absorbent surface.
Cook each doughnut for 2/3 minutes each side until both sides are golden brown.
Dip your doughnuts into the coloured frosting and top with Nothing But.
An honourable mention