Deborah and Charlotte's Banana Split Cupcake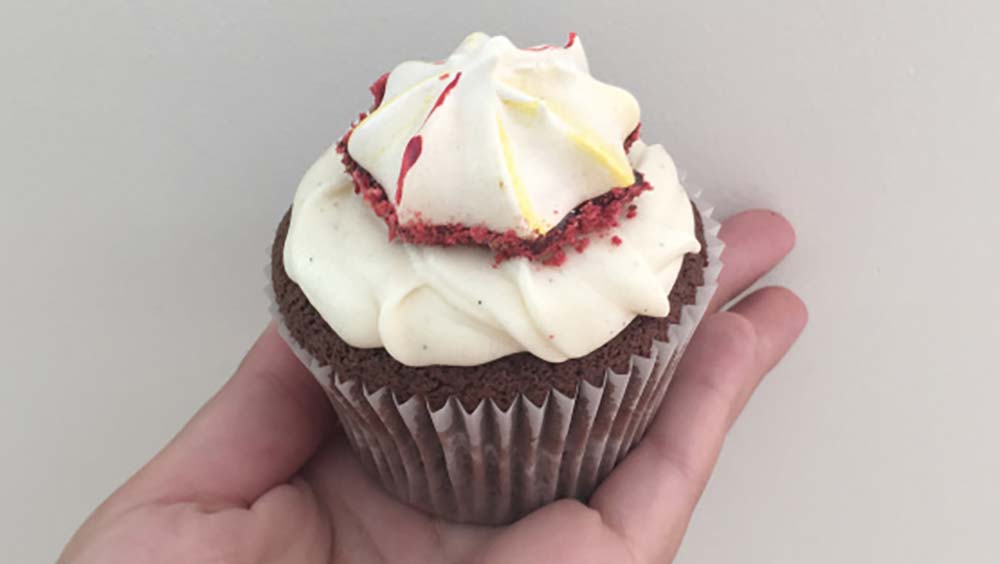 This is one dessert we won't be splitting! Sharing may be caring but some cupcakes are too delicious to give up, including Deborah and Charlotte's Banana Split Cupcake, complete with our very own Banana and Strawberry Nothing But.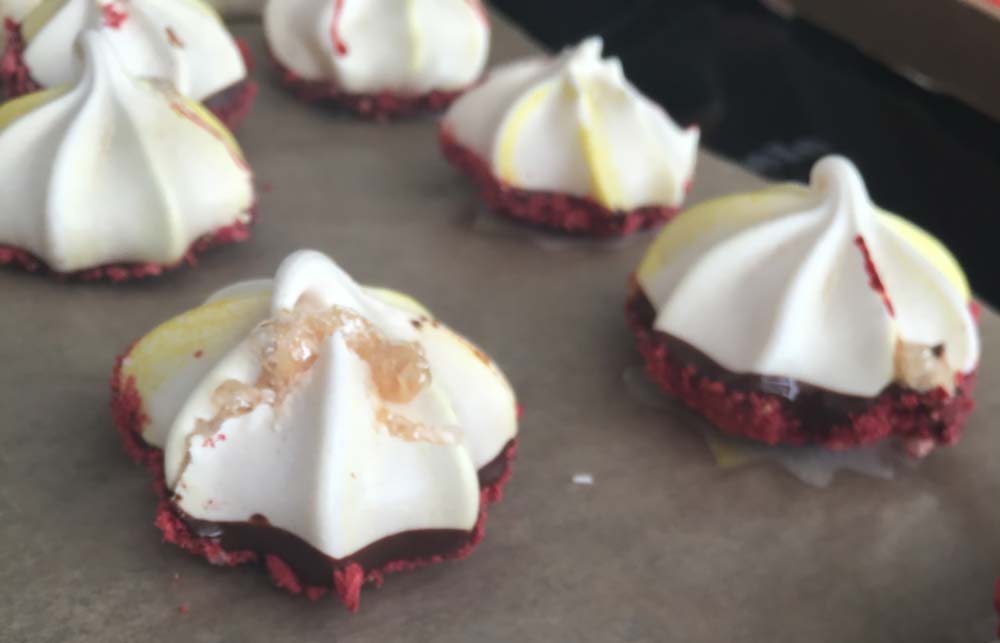 You could say that we are bananas for a good cupcake recipe, we find it hard not to eat the whole bunch in one go!
What you'll need
For the sponge:
70g unsalted butter, room temp
170g plain flour
250g caster sugar
55g cocoa powder
1 tbsp baking powder
Pinch of salt
220ml whole milk
2 large duck eggs
2 tsp vanilla bean
For the frosting:
250g icing sugar
80g unsalted butter, room temp
20ml whole milk
1 tsp vanilla bean
For the meringue drops:
2 duck eggs, whites only
120g caster sugar
3 packets of Nothing But Strawberry and Banana
Dark chocolate, melted
How to make it
Preheat the oven to 170C and line a cupcake tin.
Add the butter, flour, caster sugar, cocoa powder, baking powder and salt into an electrical mixer. Beat until it represents sandy texture.
In a jug, add the eggs, milk and the vanilla and whisk until combined.
Slowly add the liquid to the dry and mix until combined.
Using a ice cream/cookie scoop divide the batter evenly between the cases.
Bake for 25 minutes.
Once the cakes are cooling start making the meringue.
Preheat the oven to 110C.
Place some baking paper onto a cookie sheet.
Divide the banana and strawberry into bowls and then blend to a dust.
To each fruit dust and a few drops of water until it turns into a paste. If needed add a bit of yellow to the banana.
Put a star tip into a piping bag.
Start painting stripes into the piping bag in your desired pattern. Set aside.
Whist the egg whites with an electrical mixer until stiff peaks.
Add the sugar 1 tablespoon at a time. Make sure the sugar is dissolved before each spoonful.
Spoon the meringue into the pipping bag.
Pipe the meringues onto the baking paper.
Cook for 1 hour and 20 Minutes and allow to sit in the oven cooling for 30 minutes.
Crush up 1 packet of nothing but snacks.
Dip the meringues into melted chocolate and sprinkle over the nothing but snacks.
Now time to make the best frosting known to baking.
Beat the icing sugar and butter together in a electric mixer, on medium high.
Turn down to slow and add the milk and vanilla bean and beat for 10 minutes. This is what makes it amazing.
Pipe on the vanilla frosting using any tip you want.
Add a meringue.
An honourable mention
Our featured chef
Our featured chef's Instagram
Our fantastically talented illustrator Ellie