Frances's Strawberry and Banana Smoothie Cake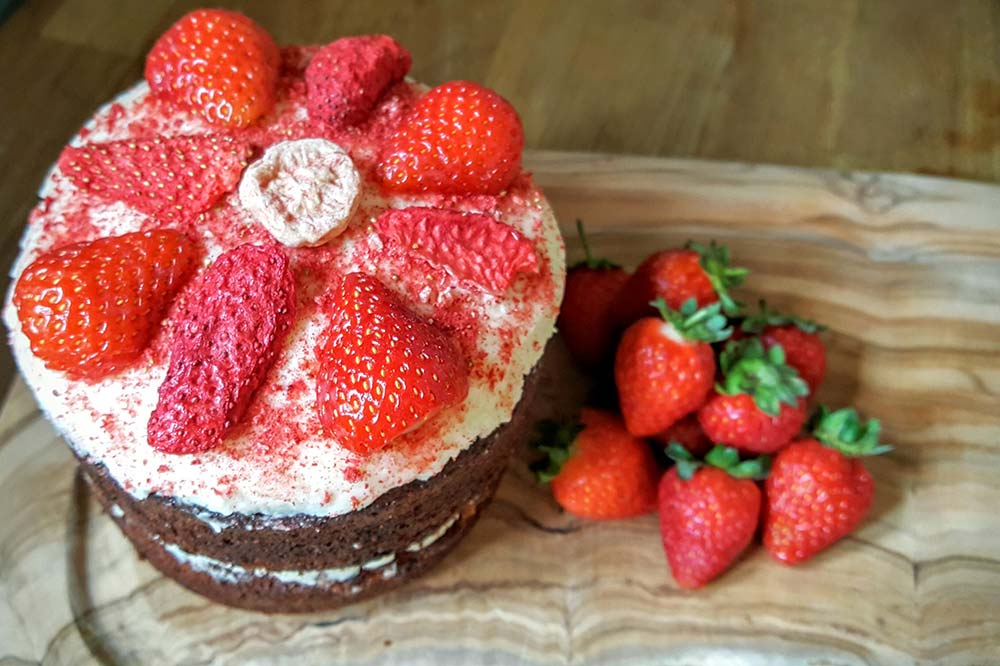 What could be better than a berry good strawberry and apeeling banana smoothie? It is a summer staple in our diets, as well as cake of course!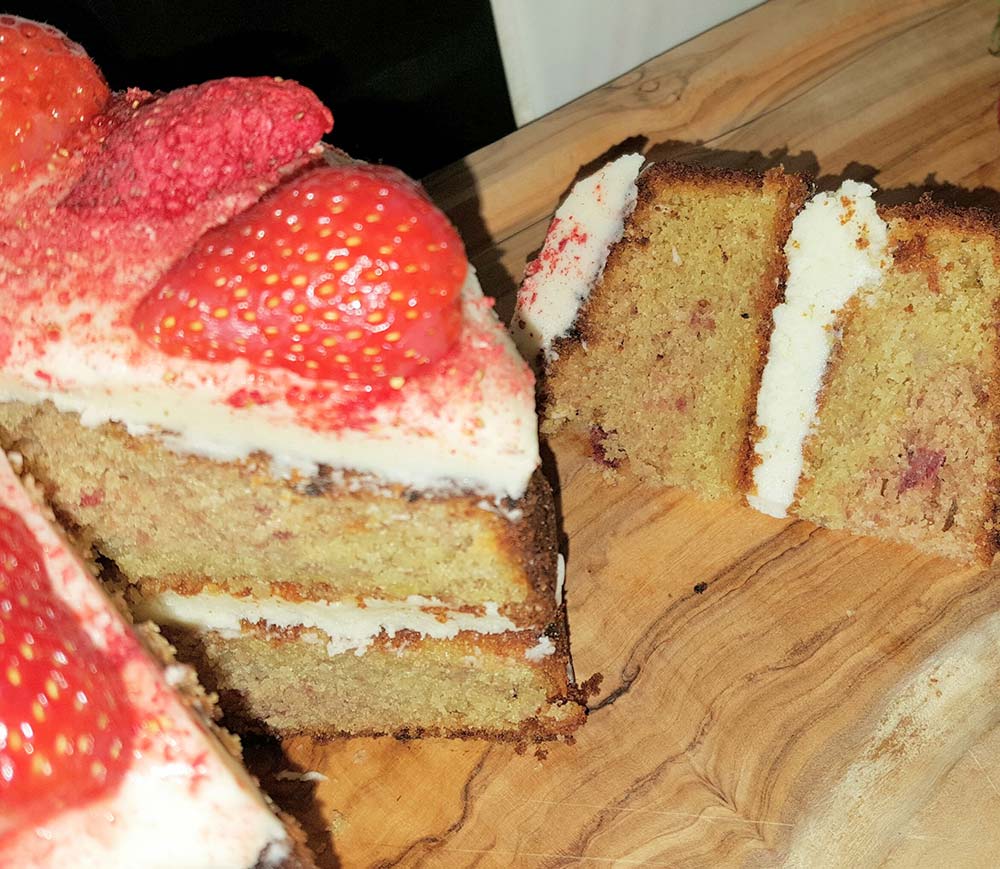 What better idea than to combine the two with a strawberry and banana smoothie cake by food blogger, Frances. We whisk you all the best at making this cake without drinking the smoothie first!
What you'll need
For the sponge:
3 bags Nothing But Strawberry and Banana
170g butter, softened at room temperature
170g unrefined caster sugar
170g self raising flour (I use Dove's Farm)
3 eggs
1 large or 2 small bananas
1 tsp gluten free baking powder
1 tsp vanilla paste or ½ tsp vanilla extract
For the butter icing:
75g butter, softened at room temperature
175g icing sugar
1 tsp vanilla paste
Fresh strawberries (optional)
How to make it
Preheat the oven to 190c / 170c fan. Line and grease two 8in cake tins.
Cream the butter and sugar until pale and fluffy.
Beat in the eggs one by one, ensuring a thorough mix to create a light, airy sponge.
Open two bags of Nothing But. Strawberry and Banana. Separate the strawberry from the banana. Using the cling-filmed end of a rolling pin, bash each fruit until you have very fine pieces or dust.
Chop the banana into tiny pieces so it resembles something close to puree.
Sift the flour and baking powder into the butter, sugar and eggs. Mix well. Separate the mix into two roughly equal batches, in separate bowls.
Add the fresh banana, Nothing But. banana and vanilla to one batch. Mix well.
Add the Nothing But. strawberry to the other batch. Mix well.
Use a tablespoon to dollop the banana mix into both cake tins, not in any particular formation. Leave a few gaps. Once all the banana mix is in, use a fresh tablespoon to dollop the strawberry mix into the gaps.
Time for marbling! Swirl the banana and strawberry sponge mixes as little or as much as you would like, taking care to avoid mixing the two flavours together. You should end up with distinct streaks of naturally coloured, pink and yellow cake as mine is, pictured.
Bake on the middle shelf of a preheated oven for 25 minutes or until a skewer comes out clean. Cool on a wire rack, taking great care to release from the tin.
In a large mixing bowl, beat the softened butter with a spoon until easily workable.
Sift in 100g of the icing sugar. Beat thoroughly into the butter.
Sift in the remaining 75g icing sugar in stages, ensuring it is beaten well with the butter to make a smooth icing.
Add half a teaspoon of vanilla paste. Mix. Cover with cling film until the sponge is cool.
Divide the butter icing into two equal batches. Evenly spread or pipe half on to one sponge. Place the other on top to form a sandwich.
Evenly spread or pipe the remaining butter icing on top of the cake.
Open the last pack of Nothing But. Strawberry and Banana. Put aside a few slices of strawberry and one slice of banana.
Crush the remaining fruit together to form a fine fruity dust. Scatter evenly atop the cake.
An honourable mention
Our featured chef
Our fantastically talented illustrator Ellie