Pamela's Strawberry, Banana and Chocolate Slices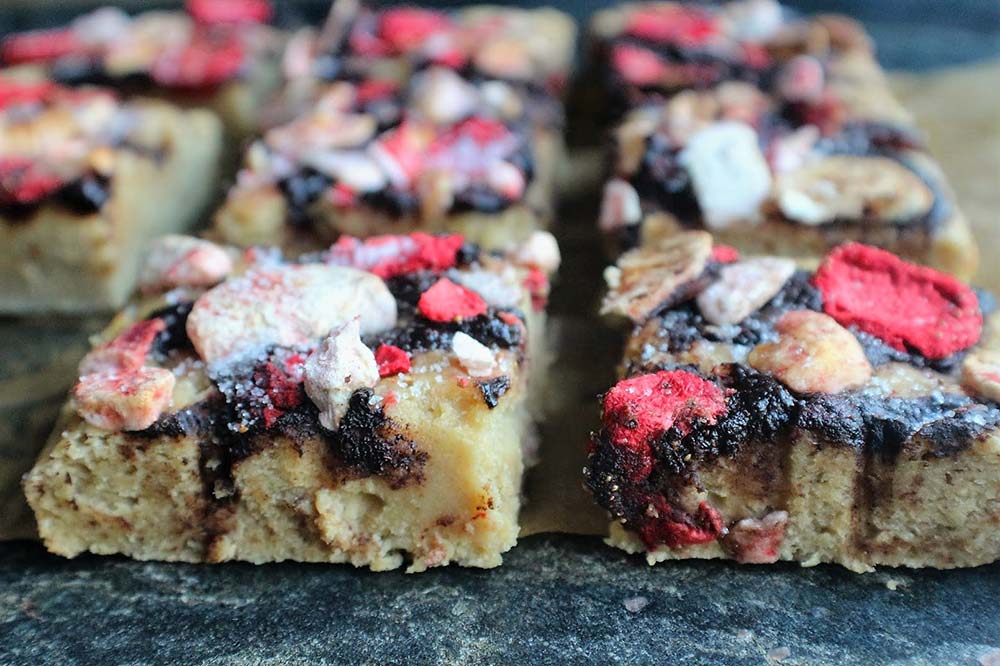 There is nothing better than a relaxing night in front of the TV watching Mary Berry on the GBBO, except a relaxing night in front of the TV watching Mary Berry on GBBO with chocolate of some form – in this case, a heavenly strawberry and banana chocolate slice!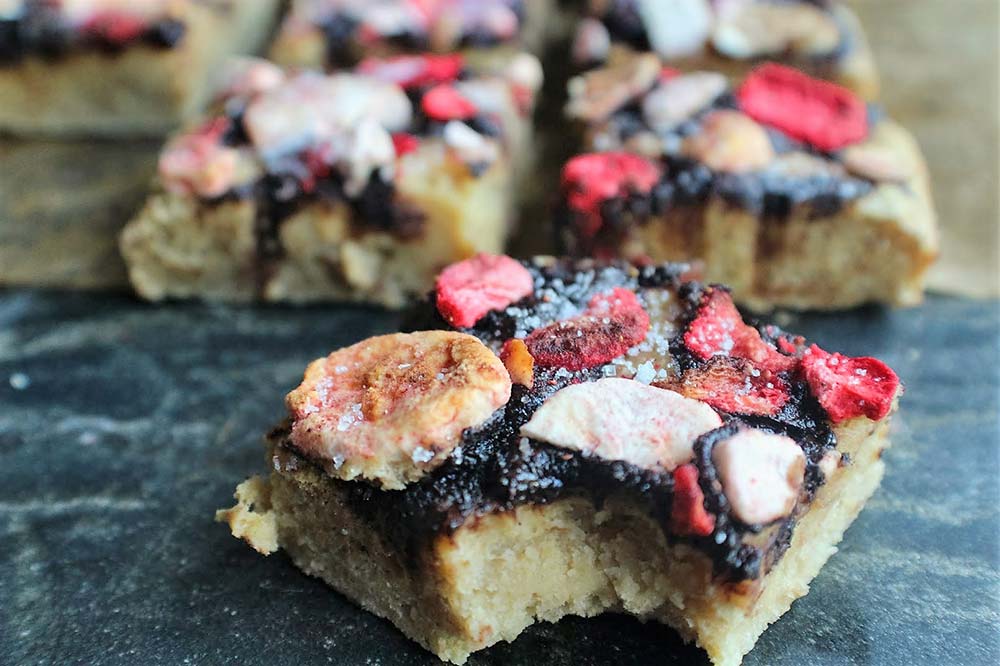 We all know chocolate is the way to anyone's heart, a sure show stopper bake from Pamela!
What you'll need
1 x can chickpeas, rinsed and drained
2 overripe bananas
2 eggs
1 teaspoon vanilla extract
½ cup almond milk (Alpro)
½ cup oats – can be gluten-free
½ cup gluten-free flour blend (Dove's Farm)
1 teaspoon baking powder
¼ cup coconut sugar (The Coconut Company)
¼ cup stevia (Truvia)
2 x packets Nothing But Strawberry & Banana
For the chocolate sauce:
1 tablespoon coconut oil (Lucy Bee)
1 tablespoon maple syrup (Meridian)
2 tablespoons cocoa or cacao powder (Kaizen Living)
How to make it
Preheat the oven to 180 degrees C and grease and line a deep square baking tin.
Place the chickpeas, bananas, eggs, vanilla and almond milk in a blender (Ninja Kitchen Nutri Ninja) and whizz up until smooth. Set aside.
Mix together the flours, baking powder, coconut sugar and stevia in a bowl.
Pour in the blended banana mixture and fold in to form a smooth batter. Spread this evenly into the prepared tin.
Now melt the coconut oil and maple syrup in a small pan, remove from the heat and whisk in the cacao/cocoa powder until smooth and glossy.
Dot teaspoons of this on top of the batter and swirl gently to form a swirl. Now scatter over both packets of the Nothing But dried Strawberry & Banana in one single layer.
Bake for 10 minutes until just going golden on top, then cover with foil to prevent burning and continue baking for a total of about 30 minutes, until firm.
Remove, leave to cool then slice into 9-12 squares. Enjoy!
An honourable mention
Our featured chef
Our featured chef's Instagram
Our fantastically talented illustrator Ellie