Amy's apple & fig cookies
The humble biscuit – partner in crime to cups of tea across the nation. Unless, of course, your biscuit of choice is one of those Rich Tea varieties, because let's face it they don't last 5 milliseconds in the heat.
But, if you like a REAL biscuit, then check out these brown crunchy packages tied up with string by Amy's Bakes – we bet they end up being one of your most favourite things!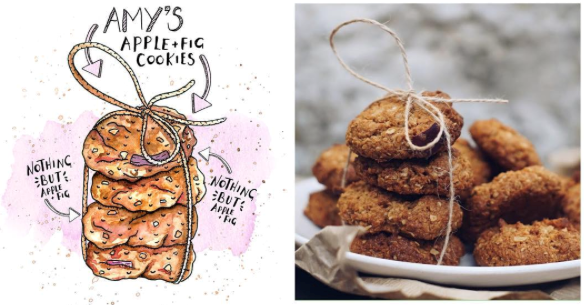 Ingredients
100g (4oz) margarine (try using Vitalite – it's dairy-free and brilliant!)
175g (6oz) soft dark brown sugar
2 tbsp honey
150g (5oz) self-raising flour
½ tsp bicarbonate soda
125g (4oz) rolled oats
150g (5oz) desiccated coconut
1 tsp ground cinnamon
24g (2x12g bags) Apple & Fig Nothing But
1 egg, beaten
Method
1 Grease two baking sheets and preheat oven to 180°C, 165°C fan oven (350°F).
2 Melt margarine, sugar and honey over a low heat, stirring every now and then to combine. Leave aside to cool.
3 Mix flour, bicarbonate, oats, desiccated coconut, cinnamon and dried fruit in a big bowl.
4 Add melted ingredients to the bowl of dry ingredients and stir. Add the egg and continue to stir until ingredients are well combined.
5 Spoon up a small amount of mixture and roll in your hands until you have a ball the size of a small plum.
6 Pop the balls onto the trays, spread slightly apart so they don't end up as one massive cookie. Press down on each with a fork.
7 Bake for 10-12 minutes until browning. Cool on the tray for five minutes and then move to a wire rack to cool completely.
8 Now, pop the kettle on, make some tea and enjoy a few of these with your feet up! Any spares, keep in an airtight container.
For the full blog post, it's just a hop, skip and a dunk over to Amy's Bakes.
Images provided by the wonderful elliemdesign and Amy's Bakes.