Great times at the Glasgow Allergy & Free From Show
Armed with Nothing But fruit and veg and our stand equipment (okay, and our sleeping gear too!), we've just returned from a visit to Scotland, where we had an awesome time trading at the Allergy & Free From Show at the Glasgow SECC.
After being recently shortlisted not once, but twice, in this year's Free From Food Awards, the Allergy & Free From show presented a fantastic opportunity to spread the word about our delicious snacks, and let more people know that snacking doesn't have to be a guilty experience ­– snacking on any six flavours of the Nothing But range is a guilt-free, delicious experience, and an incredibly convenient way to reach your 5 a day!
We're purveyors of healthy snacks, and strong believers that if you suffer from an allergy, that shouldn't be an impediment when it comes to enjoying tasty foods. That's why all six of our flavours are also free from the top 14 major allergens. They also don't contain any hidden nasties or added ingredients – and why should they? Freeze-drying the fruit and vegetables that go into our Nothing But bags mean that they stay deliciously fresh from the moment the water is taken out until the moment they reach your mouth!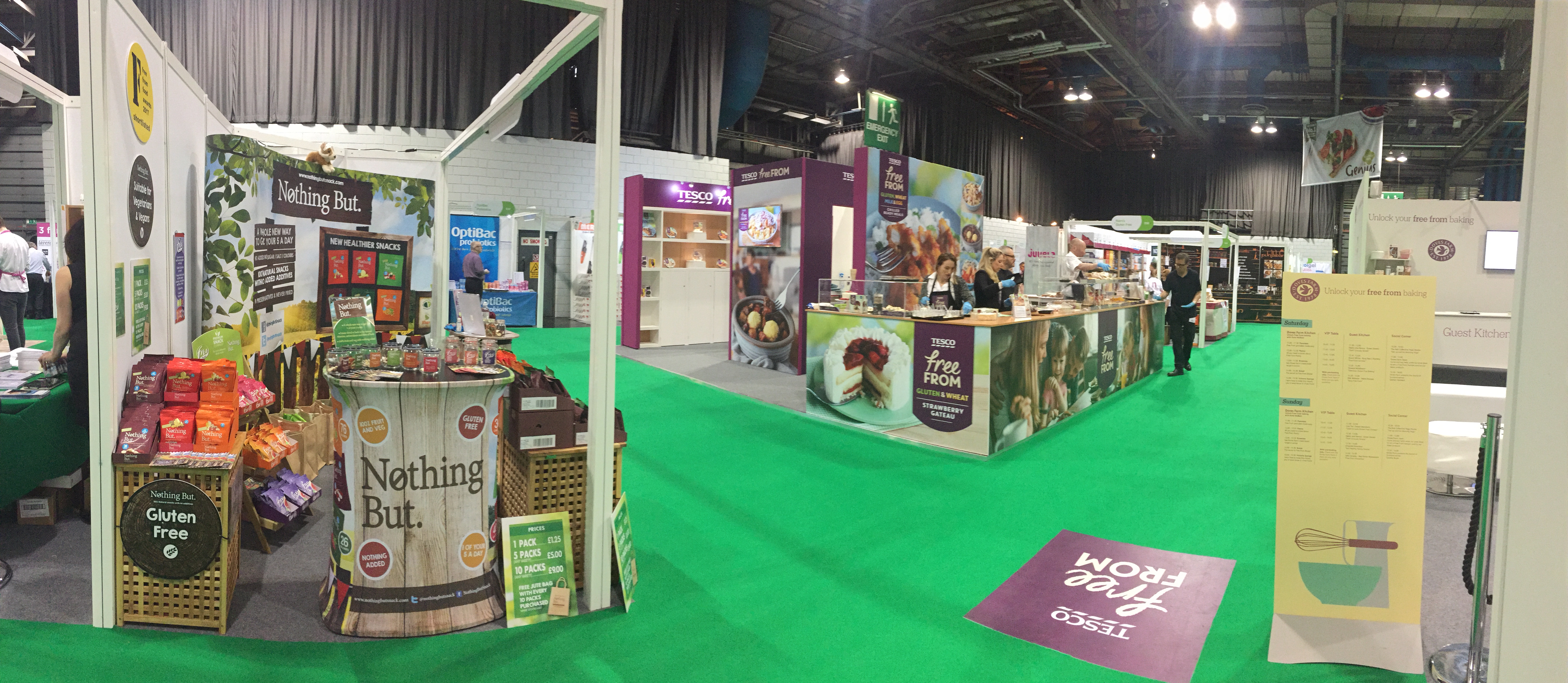 Strawberry & Banana, Pea & Sweetcorn, Apple & Fig; across the range we struggled to keep up with the amount of people wanting to try our snacks! The best thing about attending shows such as the Allergy & Free From Show is that it gives us a great opportunity to really connect with our customers and learn more about their eating habits.
In a world where there's temptation at every turn, it's great that we're seeing more and more people turn to healthy snacking options such as Nothing But.
Laura Scott, marketing manager at Nothing But, said:
"We knew that this event would be a busy one for us as the range went down a storm with the visitors to our stand last year. With this in mind, we brought much more stock, and still found ourselves on the brink of selling out, with sales up as much as 30%!
"As always, it was great to chat with our customers on the stand and hear their feedback. We're seeing more and more customers taking an active interest in the ingredients that go into their food so being able to give the reassurance that our products contain literally nothing but the fruit and veg combinations was a real pull to the stand this year."
And guess what? We're doing it all over again at the Allergy & Free From Show in the Olympia, London, taking place 7th – 9th July.
To read more about the London show, you can click here: http://www.allergyshow.co.uk/london/
That's all for now! To keep up with everything else we've got planned for 2017 (and we're certainly busy!) you can follow us on Facebook, Twitter and Instagram at the links below.
Facebook: https://www.facebook.com/NothingButSnack/
Twitter: https://twitter.com/Nothingbutsnack
Instagram: https://www.instagram.com/nothingbutsnack/