Friday fun in Birmingham!
Remember a while ago we were all excited that we'd become one of the lucky winners of a Small Business Sunday title?
If you answered yes, that's excellent, we're very pleased you're all up to date! If you're not too sure what we're talking about, in summary, every Sunday, Dragon's Den legend Theo Paphitis runs a social media campaign called Small Business Sunday, where SMEs around the country are encouraged to engage with his account and promote their business with a single tweet.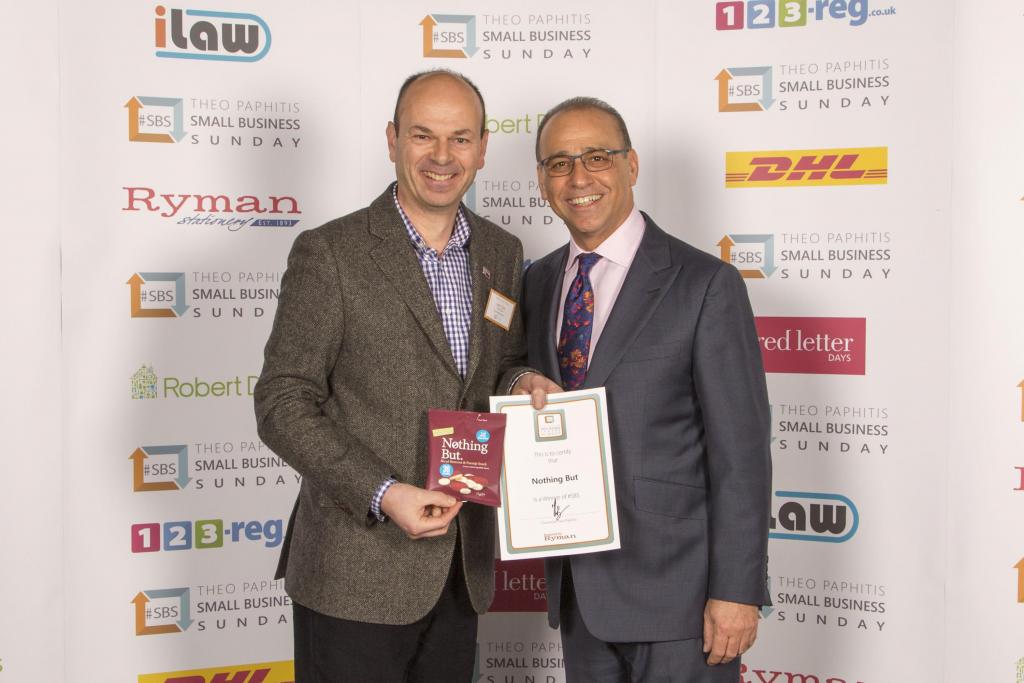 Those who manage to impress, receive a very valuable shout out – to Theo's whopping 480,000 followers!
Luckily for us, our super healthy and utterly wholesome Nothing But range caught the business mogul's attention, which basically meant our social media pages went bonkers and we got lots of lovely comments from fellow SBS-ers and Theo's fans.
And the fun continued when, one Friday in February, our General Manager John popped over to the awards ceremony in Birmingham to collect our certificate. As you can see, he even found time to pose for a pic with Theo and an obligatory packet of Nothing But too!
So if you'd like to try for your own SBS title, get engaging with @TheoPaphitis on Twitter using #SBS between 5pm and 7.30pm on Sunday. And if you'd like to try one of our yummy snack packs – click here to find your nearest stockist.