Nothing But a Great Year in 2016!
2016 has been another fantastic year for Nothing But, full of accolades, achievements and adventure. With so much happening at the Nothing But HQ, it's difficult to condense a year's worth of activities into just one post – but here goes!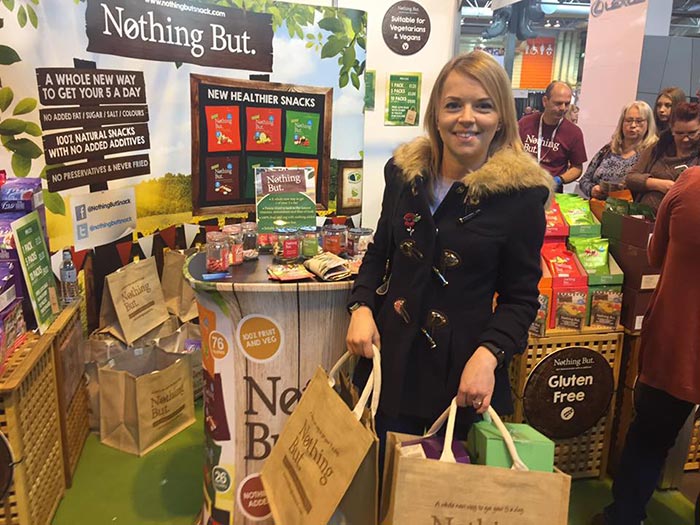 We've seen a significant increase in sales over the course of the year, due in no small part to our great partnerships with retailers such as Amazon, Holland & Barrett and other independent health retailers. By working with these national and independent retailers, we were able to make the Nothing But range accessible to a growing number of customers. We've seen increased demand from many of our retailers as a result of our growing clientele, and it's great to see customers from all over the world sharing feedback on our products, helping us on our mission to drive healthy snacking.
Trade shows present a great opportunity to catch up with fellow retailers, buyers and consumers in our sector. This year, we attended a variety of different shows and events, allowing us to promote our delicious snacks to more customers than ever before. Particular highlights were the BBC Good Food Shows – over 2000 visitors descended upon the Nothing But stand, meaning we had to call for back-up stock to ensure we met the seemingly endless demand!
All of the Nothing But range is entirely 'free-from' and it was great to be selected as a finalist for the prestigious Free-From Awards'. We had further cause for celebration when we scooped an award for Best Digital Marketing at the Hull Digital Awards 2016 and were nominated for a prestigious Northern Digital Award thanks to an extremely successful digital marketing campaign carried out with the help of our team at Fred.
Elsewhere, we were also selected by Dragon's Den businessman and Ryman Stationery owner, Theo Paphitis, as a winner of his Small Business Sundays accolade. 2016 was truly a great year for awards, and we've already entered into a number of awards for 2017.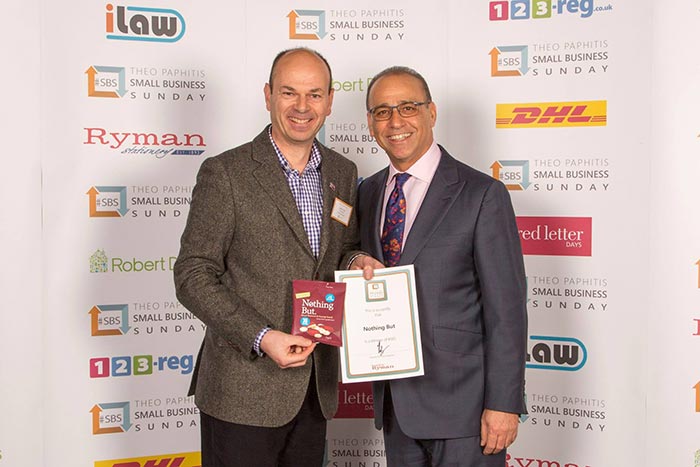 It's great when our social media and digital marketing campaigns garner national attention, but it's as equally important that the success of these campaigns allows us to encourage the habits of healthy snacking to new audiences. We believe in the power of social media and, by collaborating with SourcedBox, we were able to access new markets. We were overwhelmed by all the lovely comments and feedback on our product range. In particular, celebrity vloggers ensured our brand was seen by over 13 million people, leading to increased engagement and sales.
We're positive that 2017 will build on the successes of last year and prove to be another great year for Nothing But. As research continues to show that an increasing number of people are turning to 'clean' and 'free-from' diets, we're glad that our consumers are already being proactive and making the right choices when it comes to healthy snacking.
We always welcome opportunities to interact with our customers in person, and we're delighted to announce that we already have some important dates in the diary for this year. You'll be able to catch us at the following locations this year:
SECC in Glasgow for the Scottish Events Expo on 11th – 12th March
NEC in Birmingham for the Farm Shop and Deli Show on 24th - 26th April
Olympia in London for the Allergy + Free From show on 7th – 9th July
For more information on future shows throughout the year and to keep up to date with all the exciting news at Nothing But, be sure to follow us on Facebook, Twitter and Instagram. For more information, visit our website on: http://www.nothingbutsnack.com
Facebook: https://www.facebook.com/NothingButSnack/
Twitter: https://twitter.com/Nothingbutsnack
Instagram: https://www.instagram.com/nothingbutsnack/