Success at the Lunch! Exhibition
It's all go go go for the Nothing But team recently!! After exhibiting at the Glee gardening exhibition in Birmingham it was soon time to head down south for the UK's biggest trade show for the food-to-go industry, the Lunch! Exhibition. This annual event held at the Business Design Centre, Islington attracts over 6,000 trade buyers looking to source new and innovative products.
Armed with plenty of Nothing But stock and a fantastic stand location just behind the Working Lunch! theatre we couldn't wait to introduce visitors to 'something new and exciting', our freeze dried fruit and vegetable snacks.
We spent time showing visitors just how yummy healthy snacks can be with no added anything and as low as 26 calories per bag – the concept of freeze drying was fascinating to everyone we spoke to.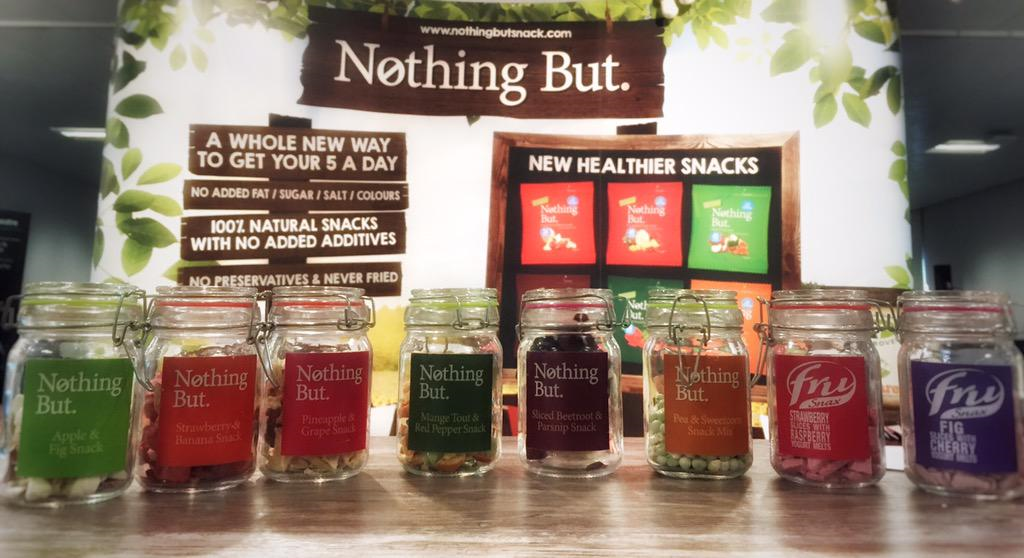 John Coe, general manager of Nothing But, explains what a great success the event was;
"Thank you to all who visited our stand at Lunch! We had universally positive feedback from everyone on the Nothing But brand. We are currently following up a substantial number of trade enquiries following the end of the show."
"The demand from consumers for a healthier snack is gathering even more momentum and retailers are seeking out brands like Nothing But, which offer a healthier and more convenient snack."
With consumers now more savvy than ever before when it comes to nutritional benefit, buyers are looking for healthy alternatives to complement their range. Buyers we spoke to were clearly impressed by the low calories and the overall flavour retained.
Nothing But, the first portion-controlled, freeze-dried fruit and vegetable snack to hit the UK market has already been snapped up by Holland & Barrett and Whole Foods and we look forward to continuing conversations with other retailers that we spoke to throughout the Lunch! show.
Next we are heading to The Pharmacy Show at the NEC Birmingham on October 18th-19th, followed by the BBC Good Food Show at Olympia London on 14th-16th November.