Be:Fit - London
The Nothing But team headed south once again last weekend to join more than 15,000 visitors and exhibitors, some of whom were clad in full lycra, at a show that has been described as the UK's best kept fitness secret. Little did everyone know we'd brought along a little secret of our own...
For three days, Be:Fit London transformed the Business Design Centre, in Islinington, into a lively hub filled with all the tools imaginable to help women ditch the fad diets and become healthier and happier.
Visitors from around the UK had the opportunity to train with elite athletes in bespoke fitness studios, learn from the capital's top wellbeing, nutrition and health experts, meet Olympic icons and discover over 125 handpicked premium brands.
The bustling and action packed exhibition hall was complete with funky fitness clothing, sports massage parlours, health and beauty brands, enough food and supplement samples to feed you for a week and not forgetting a gigantic walking, talking strawberry wandering the aisles.
Yes you read that last bit correctly. The NB squad brought a new team member to Be:Fit, who turned out to be quite the celebrity himself. If you don't know who he is already (presumably because you've been living under a rock or are abstaining from social media for the last week) let us introduce you to Strawbarry, the Nothing But Berry.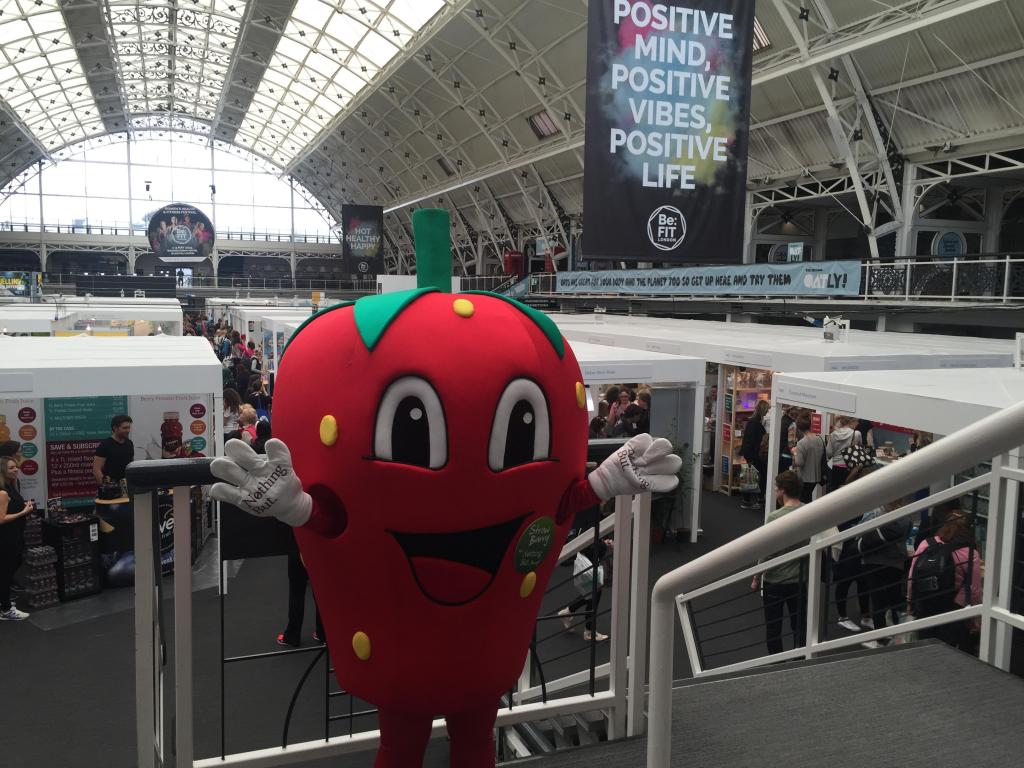 He got into the full swing of things shaking his big berry behind on the Power Plates, he found love with one of the ladies from Mindful Bites and had a narrow escape after being caught by smoothie masters, Ooosh Juice.
Although Strawbarry wasn't quite quick enough to catch Olympic champions Victoria Pendleton and Denise Lewis, he did manage to meet show headliners Rebecca Adlington and Amanda Byram and get his picture snapped with TV gladiator Ice, aka Caroline Pearce, as well as boxing promoter Kellie Maloney. (Head on over to our twitter page to see all the pics and find out what else he got up to.) www.twitter.com/nothingbutsnack
Meanwhile, the rest of us were on hand at the Nothing But stand to acquaint visitors and fellow exhibitors with the light and refreshing taste of our freeze-dried delights. It was great to meet some old friends, including two of our favourite bloggers Heidi Hearts and Lottie Loves Food, and of course we always love making lots of new friends too.
Thank you for having us Be:Fit Lodnon, it was an absolute pleasure.