Rosie's no bake tray bake
Picture this (probably just by taking a look out of the window). It's summer. It's sunny. It's sticky. You desperately want a dessert, but just the thought of kicking the oven into gear has you breaking out in a hot sweat – fellow food fans, we've all been there.

Luckily for us though, A Rosie Blog has rustled up a super solution with this anti-oven no bake tray bake. Now, a raw recipe is a bold way to kick off the Nothing But Bake Off but, hey, we've always liked a risk taker biscuit maker.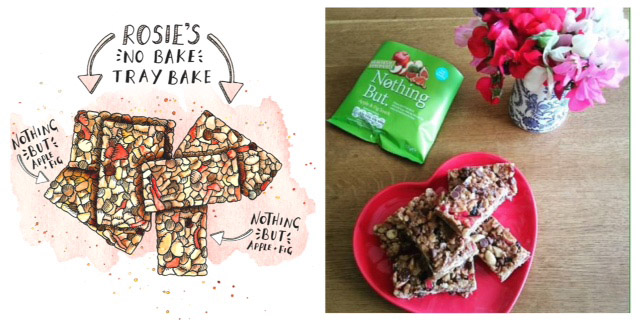 Ingredients
1 cup rolled oats
1 cup Crispy Rice cereal
½ cup chopped mixed dried fruit
½ cup chopped almonds
¼ cup butter
½ cup brown sugar
¼ cup honey
2 tsp vanilla extract
½ mini chocolate chips
2 bags Apple & Fig Nothing But
Method
Grease a 9 x 13 inch(ish) baking dish
Mix the rolled oats, rice cereal, dried fruit and almonds together in a large bowl. Add 2 bags of Nothing But's Apple & Fig freeze-dried snacks.
Melt the butter in a saucepan over a medium heat. Add the brown sugar, honey and vanilla extract. Whisk for about two minutes until the sugar is completely dissolved. Pour it over the oat mixture. Stir and combine.
Spread the oat mixture into the prepared baking dish. Press the chocolate chips into the top.
Put in the fridge until chilled – preferably overnight but it should be done in one hour.
Check out the full blog post and all of the drool-worthy pics here.
Images provided by the fantastic : elliemdesign and arosieblog