StrawBarry's Summer
StrawBarry has been on his summer holidays and boy has he been busy having lots of fun! Before the next few months of busy shows and exhibitions begin for Nothing But he thought it was about time he took some annual leave and explored the area of his hometown, Kingston-Upon-Hull. He met lots of lovely people through his adventures and made sure he took the time to tell them a little bit more about Nothing But.
His first visit was to The Deep, one of the most spectacular aquariums in the world. He was amazed by thousands of fish, some super scary sharks and he even spotted some penguins. He did get a few funny looks from the Green Sawfish though, hopefully they don't eat strawberries for breakfast……..
He had an action packed day at Princes Quay, tenpin bowling and trying not to get caught at Quasar, as you can see he found it a bit difficult to hide himself though and he even tried the climbing wall and the trampolines – good effort StrawBarry!!!
He was getting a bit tired from all the running around so decided to rest his big green feet, sit back, relax and watch a film at the cinema. There wasn't a sugary sweet or bag of popcorn in sight; instead he was quite happy enjoying a bag of Pineapple & Grape Nothing But, that way he didn't have to feel guilty in the slightest about what he was snacking on and he was easily squeezing in 1 of his 5 a day.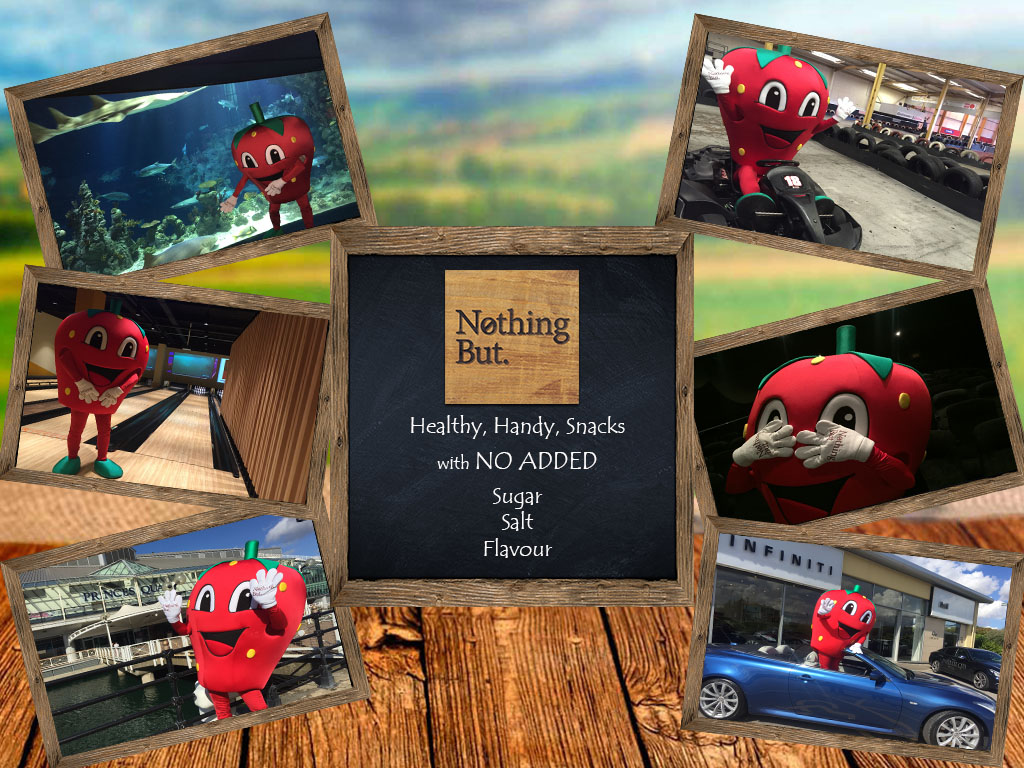 StrawBarry then spent a day out stretching his legs and enjoying the fresh air down by the river. It was a beautiful sunny day for a stroll and he even had a go on the climbing frames.
Wow we can't believe how much he got up to and the adventure doesn't stop there!! He spent some time down at Hull Raceway and gave indoor karting a go, what a competitive spirit he has.
On his way home he popped into the Infinity Centre Hull to test drive some seriously nice cars – He thought he was so cool!
To finish the week off, Beverley FM very kindly let StrawBarry into their studios to try a bit of djing and he loved it, such a natural they said! They even did a cheeky interview with him so he could let everyone know about the delicious range of Nothing But.
Well after such an amazing summer holiday it was time for StrawBarry to come back to work and crack on with the teams at Fred and Design Workshop – plenty of work to be done.
StrawBarry would like to say a big thank you to the following for making sure he had such a wonderful time on his holidays:
The Deep, https://www.thedeep.co.uk/
Princes Quay, http://princes-quay.co.uk/
Hull Raceway, http://hullraceway.co.uk/
Beverley FM, http://beverleyfm.com/
Infiniti Centre Hull, http://www.hullinfiniti.co.uk/