We've been nominated for another great award!
We're delighted to announce that 'Nothing But' snacks has been nominated for another fantastic award, this time for 'Best Use of Social Media' at the Northern Digital Awards 2017. Our delicious, healthy, freeze-dried snacks continue to be enjoyed all over the world in a variety of ways, and we've been getting some great feedback both through our campaigns and through our attendance at events all over the country.
As part of our strategic plan, we enlisted the help of Hull marketing agency, Fred. We wanted to reach out to a new generation of online bloggers and Youtubers so, together, we came up with a clever and innovative digital marketing campaign that helped us engage with over 1.9 million people in a single week! Since then, we've reached over 13 million people thanks to our integrated social media campaign, delivering real results, with online engagement higher than ever and a marked increase in sales.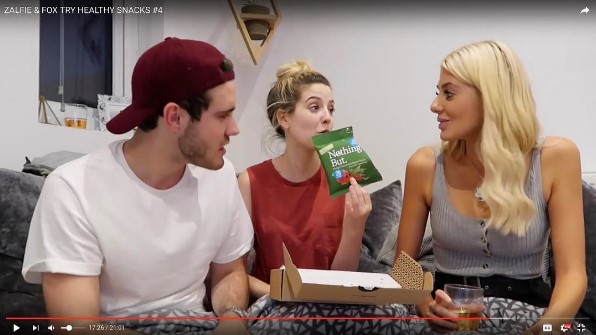 We're happy to announce this isn't the first time online campaigns have been recognised for their success. Earlier this year, we beat some stiff competition at the Digital Awards in Hull, scooping the award for Best Digital Marketing Communication.
Our marketing manager, Laura Scott, said:
"There can be no doubt that bloggers and YouTubers are here to stay and that, as a result, the way that we market is changing. It's no longer good enough to rely on placed advertising when your audience is looking to their peers online for authentic content and an opinion they can trust.
At Nothing But, we have been working closely with our team at Fred to engage with bloggers over the last two years and have gained a wealth of valuable feedback and insight from them during this time.
We've had some excellent feedback on the product so far, and we're creating a real buzz about it online, with many people tweeting us to find out where they buy the products from."
The event and ceremony has attracted entries from across the region and around 400 guests will be in attendance, including many of the North's leading digital marketing professionals. We can't wait to attend 2017's must-attend event for the Digital Marketing industry! There are 20 categories in all and entries will be judged by some of the biggest names in digital marketing.
We are delighted to share this recognition with our team at Fred and this really is a fantastic way to start the year. Be sure to follow us on Facebook, Twitter and Instagram to keep up with all the exciting things we have planned for the rest of 2017.
Click here to head over to Youtube and watch what Zoella & Alfie have to say about our delicious snacks!